The downsizer contribution initiative is due to come into effect on the 1 July 2018. Late last year the Government passed its policy which allows super fund members over the age of 65 to sell a main residence and contribute funds into their superannuation accounts without contribution cap and work test issues.
While it may seem quite straight forward, like any government policies, there are a few hoops to jump first. There are three key steps that need to be taken if a member would like to be eligible to make downsizer contributions.
#1: Eligibility
The first step a member needs to take is to confirm that their contributions will be eligible to be contributed to their fund. An eligible downsizer contribution is where:

1. the contribution is made to a complying super fund by a member aged 65 years or older;
2. the amount is equal to all or part of the capital proceeds received from the disposal of an ownership interest in a dwelling that qualifies as a main residence in Australia;
Update: Applications for the Queensland Government Energy Efficient Appliance Rebate are now open. To apply, go to www.qld.gov.au/appliancerebate.
Although purchasing appliances that are more energy efficient can have a higher upfront cost, they can lead to long term saving because of the amount of money you will save on your electricity bill yearly.
Choosing an energy efficient fridge or washing machine can save Queensland households up to $50 a year, and energy efficient air conditioners could save up to $135 per year. $20 million has been committed under the Affordable Energy Plan for rebates on approved energy efficient appliances, in order to assist Queensland households to improve their energy efficiency.
What are the rebates available?
Rebates will apply to purchases on or after 1 January 2018 of the following household appliances:
$200 for a 4 star energy rated washing machine
$250 for a 4 star energy rated refrigerator
$300 for a 4 star energy rated air conditioner.
There is no magic number to start planning but the simple answer is, the earlier you start, the more chance you have to achieve the retirement that you dream of having.
The reason for this is because of the compounding interest effect. Below are some simple graphs showing how powerful this effect can be.
The first graph shows a beginning balance of $25,000 and rate of return of 6%, with no extra payments. Starting at age 25, by age 65 the balance has grown to over $257,000. If you delay the start by 10 years, the end balance is $143,500.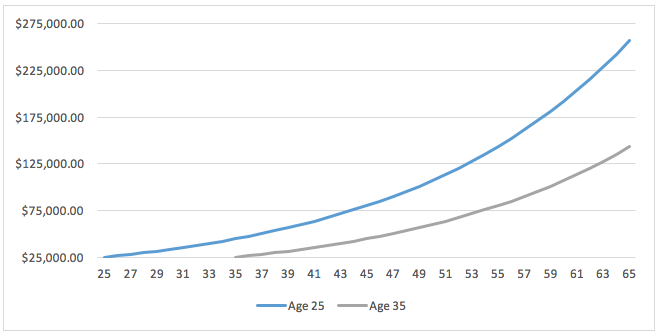 If you wanted to have $1 million at retirement age 65, the graph below shows how much you would have to save every month, using a 6% return, at different starting ages.
The table shows the amount that would have been personally contributed over the time to retirement and the compounded interest amount.